The world that Detective Pikachu introduces to the moviegoing audience, is one laced with Pokémon characters and history, delighting fans of the game and the universe it created. But Rob Letterman understood that in order to create a film that audiences will want to be enveloped by, there had to be a world that reflected the one we actually live in. It was that idea that allowed Letterman to not only take on the film but also informed his casting and led to Mexican actor Omar Chaparro to take on the role of Sebastian, a Charizard Trainer.
Chaparro may be an unfamiliar name in the United States, but he has been a working actor and comedian in Mexico for close to two decades. Recently, his name has begun appearing in the U.S. market as some of the Pantelion films he's had roles in like, How To Be A Latin Lover, Overboard and a few others, which have been modest hits at the box office. Now, Chaparro takes on his first role in a film that is part of a global phenomenon. I got a chance to speak with Chaparro about being given the role without auditioning, how it felt to work with puppeteers, and what his son thought about him stepping into the world of Pokémon.
I'm interested in how you got wind of this role and how you pursued it.
Well, I pursued it just by meditating and to be ready to take in some acting classes, but to do a specific get this role, I think I was lucky enough just to have a phone call. They asked for me to play this character, but I didn't have to be in the process of the casting, so I was very fortunate to have it.
I got a little bit of a luchador vibe from your Trainer character, getting ready to go in the ring. He's a big character. Did you try to bring a little bit of that piece of Mexican culture in?
Well, maybe just the accent. What I read in the script is called Sebastian and he's a pop singer, very famous, like huge star in the world of Pokémon, but in his free time he loves to do this battle in this arena. But it's against the law, it's supposed to be against the law to have battles between Pokémon. Supposed to behave between humans and this prohibits, you know, having these matches but he doesn't care. He does this because he loves to.
I thought it was really interesting how Rob [Letterman] really approached this as wanting to put practical things on film versus a fully CGI, green screen thing. How was it acting against puppeteers?
Well, as you can imagine, you have to feel, you have to use your imagination like as if you were a kid, you know, and that's what I did. But it helped me a lot to have these puppet actors by my side. They're all dressed up in green and they used a big puppet to do my Charizard. It helped me because it felt kind of real to have it by my side, and I could touch it and see it in his size. It helps a lot but again you have to use your imagination, otherwise, you won't believe it, and if you don't believe it the audience won't believe it either.
I also read that you did your own stunts? That's pretty awesome.
Well, always I try to do my own stunts because I love that kind of thing. I have practiced karate since I was a kid, I'm a black belt in Shotokan. In every movie that I do, if I have the chance, I always love to do my own stunts. Not every director allows me to do that, because insurance or whatever, but Robert was very open to me. He was very open and open-minded, even to propose the dress and as you see [in the film], I paint my fingernails. He was very open and considerate.
I talked to Rob previously, and he was very excited about this. He told me that the casting was what he wanted. So, I'm wondering, what was it like for you to work with a director that wanted your input, that let you create this role?
Oh my God. Well, first of all, I'm very thankful for Rob and the producers. As I mentioned, they said that they specifically wanted me and first, I wanted to know why. You know? The first thing that I did when I was on set, I was looking for Rob and asked him, "Hey Robert, I'm so excited to be here. Why did you pick me? Why? I didn't have to do the audition." He's never talked to me before. He told me that a movie that I did like 10 years ago, Aztec Warrior, he knows one of the producers and he told them that, "Omar needs to be in this film, he's good." So, that's why they picked me. I'm so grateful for that.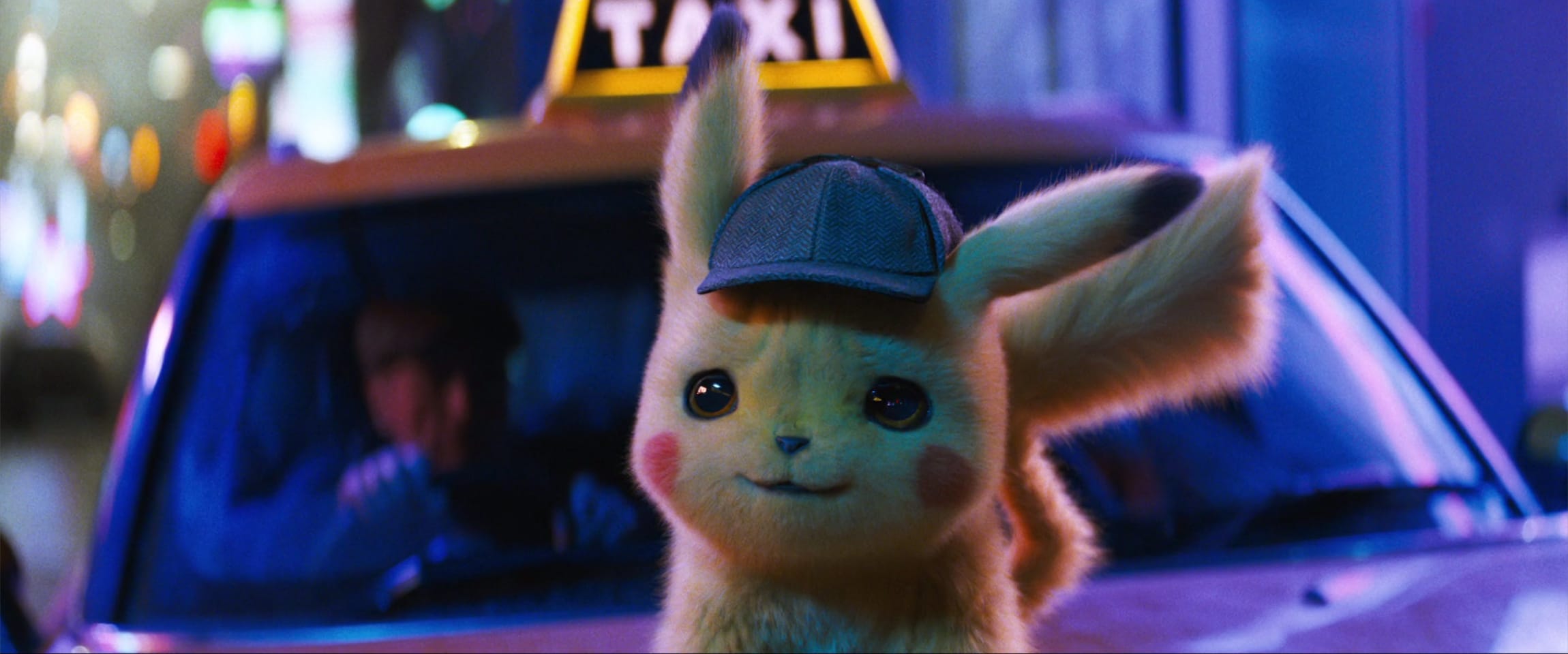 What does it feel to you as an actor to have this kind of director who was like, "I want you to create the role?" 
Well, some actors enjoy [having a] director who tells you exactly what to do, and I do work with those directors. You have to be ready as an actor, to be open and hear the ideas of the director. But, honestly, Rob was very trusting about what I could do. I love that, because I was in a very open space to create and to propose and to play around. So I really liked it. He was very kind and considerate with me.
Just talking a little bit beyond Pikachu, because you've been a working actor for a while and very successful in Mexico. What has the process of crossing over to more American films and pop culture been like for you?
Well, first of all, you have to trust yourself. You have to trust your gut. It is not easy. As a human being, you always have your doubts. Especially, if you are an actor, you have doubts, and it won't matter if you're acting in Spanish or in English. But, especially if you're in a big American movie in this worldwide industry, the doubts start [getting bigger]. Big doubts you have. I've tried to trust myself, and to trust the character, and try not to think as the actor, because the actor as a human being always will have their doubts, and whatever. But if you really believe that you're Sebastian in this case, if you believe that you're the character, if you bring that to life, it doesn't matter what the actors think. You just try to believe in the character.
Your son is a big Pokémon fan. Has he seen the movie yet?
Yes! I took all my family to see it in New York at the yellow carpet. They were having so much fun. Especially Emiliano, he was turning 14 years old. So it was one of his presents. Can you imagine how happy he was to be on the yellow carpet? Yeah, it was incredible.
Did he give you his thumbs-up seal of approval?
He was excited. He told me, "Daddy, this is the first time that the movie that you made is in New York, in this billboard. It's amazing. You must be very proud, Papa, because I'm very proud of you."
Aww. As a father, how did that make you feel for your son to say that?
There's no word to [describe] that. So happy. So happy and grateful.
Detective Pikachu is in theaters today. Get your tickets here.