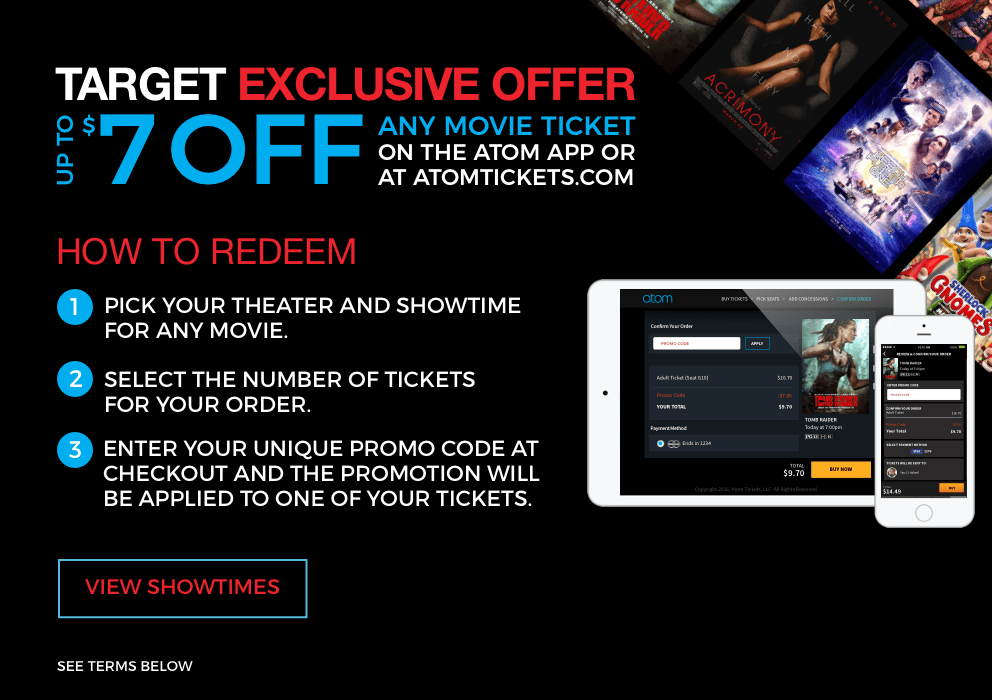 Atom Super CineSavings - Get Up to $7 Off a Ticket to ANY MOVIE With Your Target Purchase!
This Atom SuperCineSavings offer allows You to get up to $7 off a ticket to see any movie through Atom Tickets with a qualifying purchase ("the Promotion"). This Promotion was created to reward users ("You" or "Your") for making qualifying purchases at Target retail stores, as described below. You can use the redemption code (the "Code") you received with your qualifying purchase on the Atom Tickets mobile application (the "App") or the Atom Tickets website at www.atomtickets.com (the "Website").
You are eligible to participate in this Promotion and redeem Your Code if You are over 13 years of age and all of the following occur:
1. You make a qualifying purchase of an eligible title at a Target retail store on or between March 25, 2018 and June 30, 2018.

2. With Your purchase, You receive a Code to be redeemed on the App or Website.

3. You purchase a ticket to any movie on the App or Website between March 25, 2018 and June 30, 2018.

4. You agree to be responsible for any additional costs in excess of Your Code credit.


Only one Code may be used per transaction. If You received multiple Codes, You will need to use each Code in a separate order. Your Code is valid from March 25, 2018 through June 30, 2018. If Your Code is not used by You on or before June 30, 2018, it will expire and no longer be valid.
Offer Restrictions and Additional Terms & Conditions:
1. Your Code cannot be transferred, substituted, combined with other offers or discounts, resold, redeemed for cash, or refunded. It is valid for one-time use only.

2. The availability of the Promotion varies based on location and may not be available in Your location.

3. If You engage in any prohibited uses or otherwise violate the Atom Tickets Terms of Service You may, at Atom Tickets' sole discretion, be prohibited from redeeming Your Code, any future offer, or have Your Atom Tickets account terminated.

4. Any attempt by You to deliberately undermine the legitimate operation of the Promotion may be a violation of civil and/or criminal law and, should such an attempt be made, Atom Tickets reserves the right to seek damages to the extent permitted by law.

5. In the event that a change to the terms materially modifies Your rights or obligations, we will make an effort to notify You of the change, such as by sending You an e-mail to the address we have on file for You, or presenting a pop-up window or other notification to You through the App. Your continued use of the Promotion after the changes become effective constitutes Your binding acceptance of such changes.

6. Redemption of your Code requires internet access and submission of your e-mail address.
By using the Code on the App or the Website, You agree to be bound by the terms and conditions contained herein, in addition to the Atom Tickets Terms of Service, Purchase Terms and Privacy Policy. To the extent that any of those differ from these terms, these terms will control with respect to this Promotion (and only with respect to this Promotion).