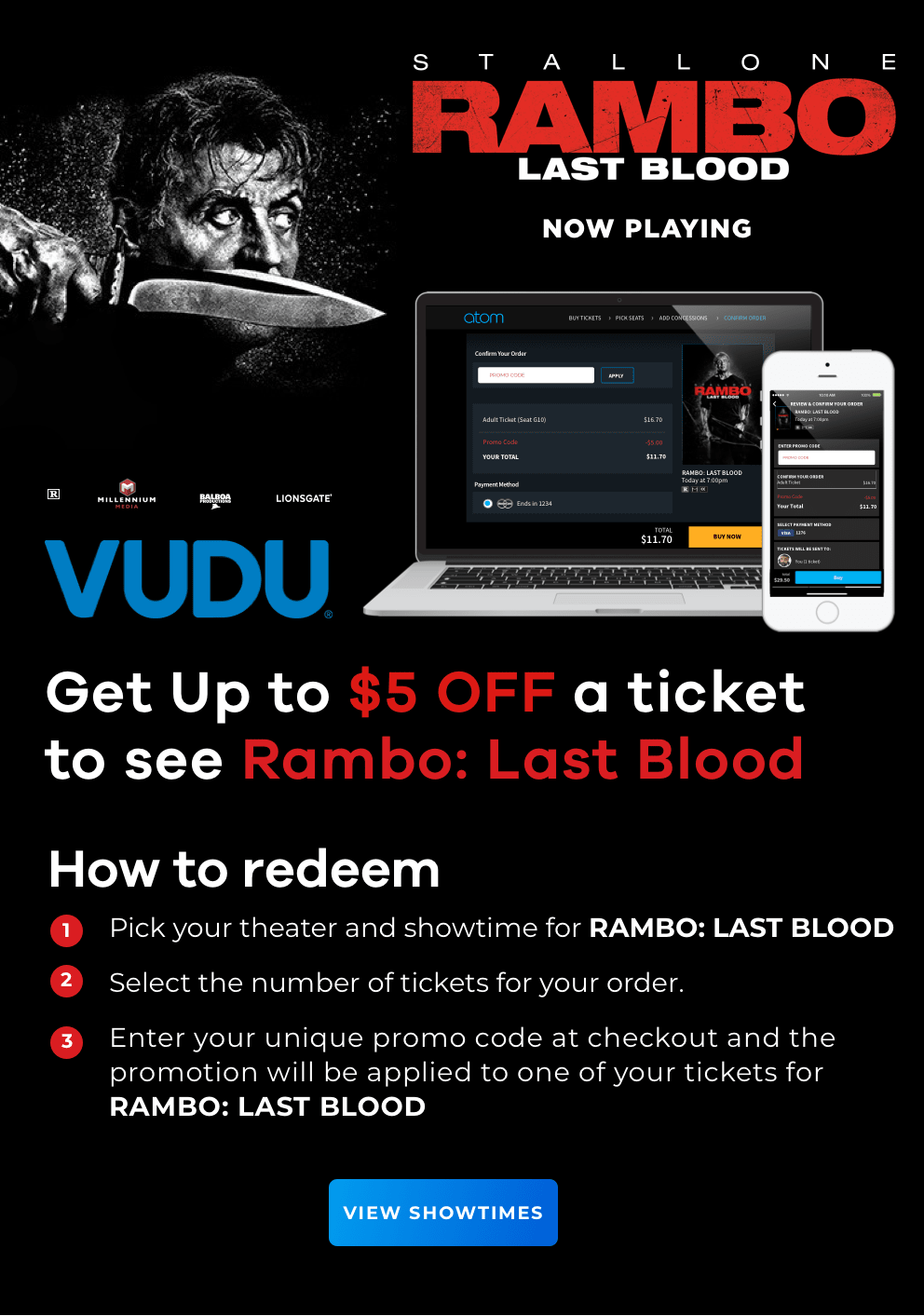 This Atom CineSavings offer allows you to get up to $5 off a ticket to see RAMBO: LAST BLOOD through Atom Tickets with a qualifying purchase ("the Promotion").
How to Qualify for the Promotion
You will be eligible to obtain a Promotion Code if you are over 13 years of age and you make a qualifying purchase of one of the eligible titles listed below on Vudu.com on or between September 17, 2019 and September 30, 2019. Please note that you should double check your purchase prior to buying it to ensure that it is a qualifying purchase. If you make a valid qualifying purchase, you will receive a Promotion Code redeemable on the App or Website pursuant to the terms below. The availability of this Promotion varies based on location and may not be available in your location.
How to Redeem Your Promotion Code
1. Go to the Atom Tickets App or Website between September 17, 2019 and October 30, 2019.*
2. Add at least one ticket to your cart for RAMBO: LAST BLOOD.
3. Enter the Code into the promo code redemption area during checkout (please note that you'll need to pay for any additional costs in excess of your Code credit).
4. Enjoy your movie!
*Your Code is valid from September 17, 2019 (or whenever tickets for RAMBO: FIRST BLOOD are available for purchase, if later than September 17) through October 30, 2019 (or when tickets for RAMBO: LAST BLOOD are no longer available at an eligible theater, if earlier). If your Code is not used by you on or before October 30, 2019, it will expire and no longer be valid.
Only one Code may be used per transaction. If you received multiple Codes, you will need to use each Code in a separate order. Your Code cannot be transferred, substituted, combined with other offers or discounts, resold, redeemed for cash, or refunded. Your Code is valid for one-time use only.
Offer Restrictions and Additional Terms & Conditions:
This Promotion was created to reward users for making qualifying purchases on Vudu.com, as described herein. You can use the redemption code (the "Code") you received with your qualifying purchase on the Atom Tickets mobile application (the "App") or the Atom Tickets website at www.atomtickets.com (the "Website").
By using the Code on the App or the Website, you agree to be bound by and comply with the terms and conditions contained herein, in addition to the Atom Tickets Terms of Service, Purchase Terms and Privacy Policy, which includes: (i) not engaging in prohibited uses or otherwise violating our Terms of Service; (ii) not attempting to undermine the legitimate operation of the Promotion; and (iii) having the appropriate internet access and submitting the information otherwise required to make a purchase.
To the extent there is any conflict between the terms of this Promotion and our Terms of Service, Privacy Policy or Purchase Terms, these terms will control with respect to this Promotion (and only with respect to this Promotion).
Eligible Titles – 1 Code for Up to $5-Off with Each Purchase:
Rambo: First Blood
Rambo: First Blood Part 2
Rambo 3
Rambo
The Expendables
The Expendables 2
The Expendables 3 (Extended Unrated)
Escape Plan
Escape Plan 2: Hades
Escape Plan 3: The Extractors
Backtrace
Cop Land
Lock Up
Spy Kids: Game Over
John Wick
John Wick Chapter 2
No Country for Old Men
Apocalypse Now Final Cut
Hunter Killer
Push
Gamer
Gods Of Egypt
The Punisher
Law Abiding Citizen
Shattered
Criminal
Source Code
The Hitman's Bodyguard
American Assassin
Lawless
Terminator 2: Judgement Day
Dredd
Mechanic: Resurrection
Lord of War
Blood Father
Shot Caller
The Commuter
Sicario
Hacksaw Ridge
Deepwater Horizon
Patriots Day
Red
Hell or High Water
Warrior
Ender's Game
The Lincoln Lawyer
3:10 to Yuma
The Hurt Locker
Braven
47 Meters Down
Crank
Transporter 3
The Last Stand
From Paris With Love
Snowpiecer
Abduction
The Wall
Next 3 Days
Hostiles
Rambo: The Complete Collection
The Expendables 1, 2, 3 (Bundle)
Escape Plan Triple Feature