With Midsommar, Ari Aster has gifted newer generations their The Wicker Man. It's a warm invitation into subtle Swedish madness decked out in the reassurance of pastel colors. Almost two-and-a-half hours fly by, defying how overdrawn running times are so often the rage these days. You'll laugh, recoil, and gasp aloud in equal measures. Mr. Aster, please teach others how to simultaneously please and punish a crowd at the same time.
Florence Pugh stars as a Dani, who we meet at the pinnacle of personal grief. In an attempt to overcome tragedy and regain normalcy, she joins boyfriend Christian (Jack Reynor) and his grad school anthropology buddies on an exploratory Swedish mid-summer adventure for "research purposes." Upon arriving in Hälsingland, the Americans are met with strawberry treats, welcoming embraces, and hallucinogenics from nature's soil. For nine days, the vacationing students plan on studying the rural land's extravagant harvest festival by watching from afar. What happens, of course, cannot be explained by even the most detailed thesis paper.
A24 will release Midsommar on July 3rd, hoping to rake in another Hereditary sized box office return. With that date still two weeks away, here are three reasons to get excited about Aster's beautifully destructive European odyssey.
1. Don't Expect Textbook Scares, But Get Ready To Feel The Pain
Aster's screenplay cuts to the core of grief, gaslighting, unhealthy relationships, and mortal fragility all under the guise of pagan ritual. As Dani and Christian are swept into the isolated community's dance competitions and springtime glee, they avoid what some might classify as "difficult" conversations about their crumbling relationship. Midsommar might not be what some deem as "scary" (read: jump scares), but what Aster creates is deeply unsettling. The way Dani is treated, the trauma she endures, the happiness she deserves versus the complacency she accepts, it's all so…human. Some arcs are lighter in tone than others, for example, Mark's (Will Poulter) "U.S. Dudebro Vaper," yet Aster still manages to craft across-the-board relatable characters I connected with on so many insecure levels. Check "emotional deconstruction" as one of the film's stand-out strengths even if some introduced plotlines never find their end.
Internal and external pain is also represented physically on screen by Aster's signature depictions of brutal gore. Remember in Hereditary, that roadside shot of a detached body part we won't mention here? Midsommar doubles down on graphic imagery shown in broad daylight, mangling bodies and making notable use of a wooden hammer à la Gallagher smashing watermelons. The contrast of bloody reds against yellow ceremonial temples, white linen frocks, and picturesque blue skies is exactly the kind of sunburnt horror I crave. Take something bright and innocent, then splatter it with the most grotesque imagery you can imagine. Aster never loses his grasp of the paranoia characters feel or madness at hand as Hälsingland's pagan practices increase in morbid nature. Village folk supply justified explanations for the horrors that unfold as they relate human lifecycles to four seasons, opening the door to a moral gray area of "People are dying but they have a logical explanation for it, maybe?" In any case, nobody sustains tension for two-plus-hours like Ari Aster (after two films worth of evidence).
2. Hear Me Out, 'Midsommar' Is A Crowdpleaser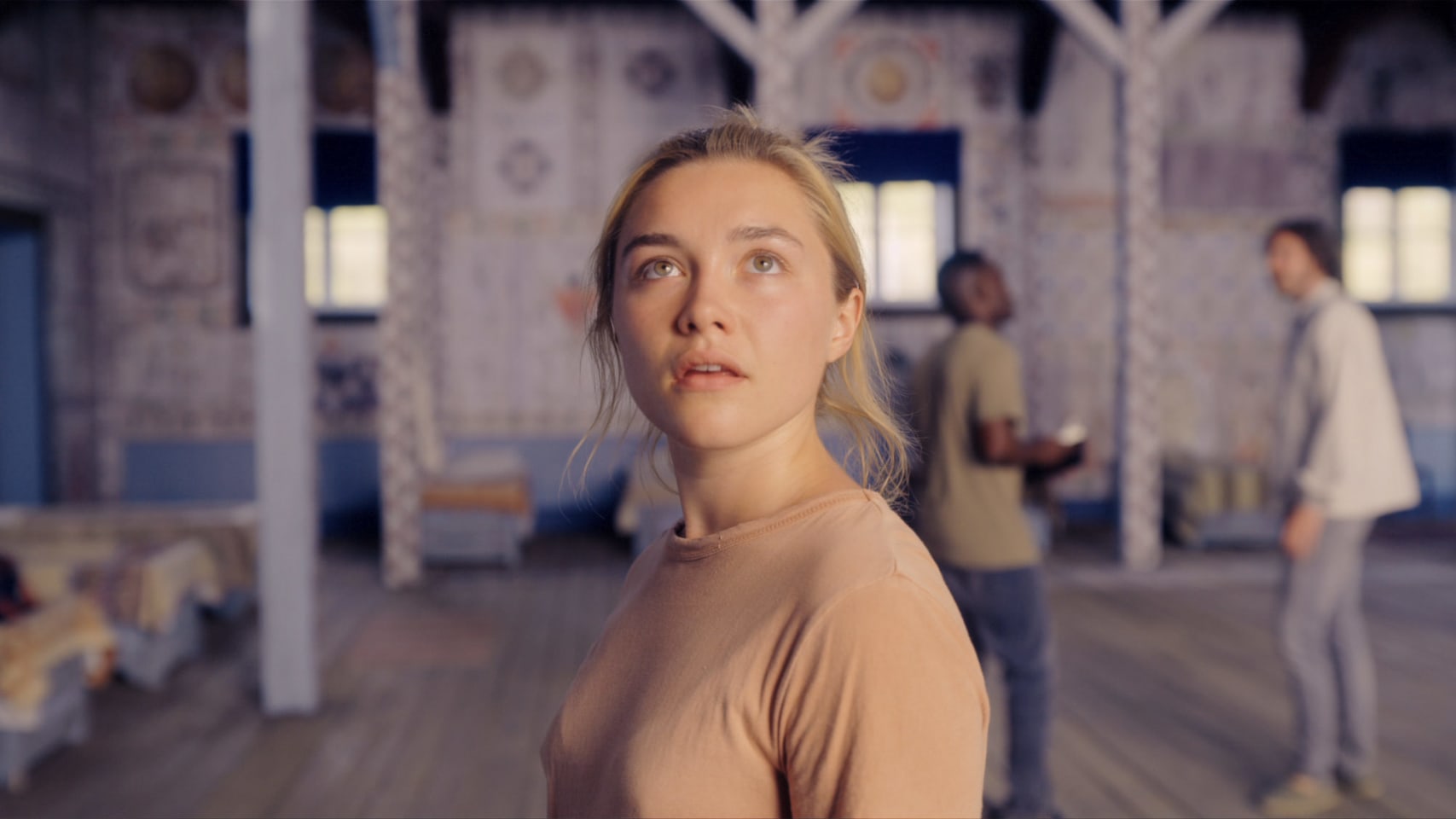 No. I'm not kidding. I did not expect to burst out laughing so many times throughout Midsommar. You can thank Poulter's constant one-liners as he comments on the bizarro aspects of the village (like asking about "Meatball Sex Clubs" in Stockholm). He is absolutely hilarious whether it's noticing how women "walk weird" during ceremonial flower picking or trying to win the affection of a local female. It's fish out of water commentary played so humorously rude, yet never to an offputting point. Reynor accomplishes the same, while William Jackson Harper as the inquisitive Josh (not far off his The Good Place character Chidi) scoffs at his primitive friends. That's even without the influence of "spiked" tea or magic mushrooms, which only enhance comedic reactions.
On the flip side, you have the normalcy Aster creates through the villagers' hospitality. At first, nothing but flower gifts and "Skål!" toasts. They greet foreigner "friends" with open arms. Then people start vanishing, but the smiles and playfulness never disappear. Meat pies are inspected by questionable eyes that ponder ingredients, love runes are found under beds, and artwork depicting, er, mature themes tease underlying oddness in an otherwise idyllic fantasy world where the sun only sets a handful of hours each night. Aster holds true to cultish discussions involving inbreeding or sacrificial empathy, but still lightens the mood with lines like a deadpan, "It's a bear" when a visitor asks the meaning behind said caged animal after so many other rituals have been explained.
3. You Never Feel The Film's Daunting Length
Walking into Midsommar knowing Aster would attempt to sustain sunshine horrors for 140 minutes made me a bit nervous. Walking out of Midsommar knowing it was 140 minutes made it seem like a miracle. Aster's procession of events is tightly wound like ribbons twirled around a May Pole, whizzing through Dani and company's deathly descent into the maniacal reverence paid to traditional beliefs. The camera continually frames what could pass as Swedish tourism propaganda while heightening unease every step of the way, never forgoing bursts of color in flowered dress or other native decors. It's all so simple, townsfolk acting out ancestral damnation, distorting dangers through herbal inebriation. Pacing is feverishly intoxicating while the tone remains joyfully macabre, and overall composition is never anything but effortlessly entertaining as a modern work rooted in "eff you up" folklore.
It's the little things that keep you engaged and not glancing at how much time is left, from Dani's hallucinations of grass growing out her skin to roasted feast spreads that pulsate through the eyes of a drugged May Queen. We sit there, watching as an extension of these enamored travelers trying to understand another's culture with removed judgment. It's maddening, like a drug that kicks in overtime as the trippiness of Midsommar mounts with each passing scene. There's only ever forward momentum (which some might view as a negative given some frayed subplots), which envelopes viewers within the incendiary chaos at hand. As I said, Aster has created his version of The Wicker Man for a new generation – but that comparison isn't to take away from the individual accomplishments of Midsommar. A striking, violent, and mesmeric horror story of the most inviting Nordic brand.
Midsommar is in theaters on July 3rd.