Earlier this month, I headed out to Orlando and Walt Disney World for the Toy Story 4 press weekend (you can read my review here). The movie is a beautiful, fitting follow-up to Toy Story 3, a movie many found to be perfect and believed should have closed the franchise for good. But it's 2019 and no franchise stays closed forever if there are stories to be told.
With the fourth Toy Story movie, quite a few new characters are introduced, including Tony Hale as Forky, Christina Hendricks as Gabby Gabby and Keanu Reeves as Duke Caboom, along with Jordan Peele and Keegan Michael-Key (who were not at the press conference) as Bunny and Ducky. Of course, the original toy gang of Tom Hanks and Tim Allen as Woody and Buzz Lightyear, respectively, and Annie Potts as Bo Peep are all part of the movie, too. Blending so many original characters with the new can be a challenge. But at the press conference for the film, the talented cast revealed what they love most about their characters – turns out, if your character has enough depth and spirit, it's pretty easy to bring them together under the same Toy Story room, whether old or new.
Tom Hanks is the arguable patriarch of the Toy Story family, just as his character, Woody, is with the gang of toys in the movies themselves. Voicing Woody has been a part of his life for almost two-and-a-half decades, and the magic of it still hasn't worn off for him:
"Woody has been the great gift that I've seen play out again and again in my own family as well as sort of around the world, even in [a] culture that it's not in my voice – it's Spanish or Mandarin or what have you. Woody still is this three-dimensional emotional bag that kids carry around with them. What I have truly appreciated is that no matter how old you are now, when you see one of the movies, you're the same age you were when you saw the first one. And there is not a bump, there's not a jolt. There's no nostalgia. Nothing ages poorly. It's exactly as it was and sort of always will be."
Woody's partner in crime is Buzz Lightyear, and actor Tim Allen reminisced about how Buzz has grown and evolved over the years. As a foil to Woody, Buzz provides the untethered innocence to balance Woody's pragmatism and the result is a story of how their friendship has grown over the years:
"It's funny to watch this whole transition…[Buzz] had to transition from a – because he's always been wonderfully ignorant about who he was – that he was a toy. But his transition has always been, 'Okay, that was a terrible moment for me. Let's regroup.' Buzz got to be the same, his core has always been this little, authentic, kind of soft-hearted. And you'll see in this movie, it's kind of weird about that. Woody has this inner voice. I think it's the sweetest part of this movie. But [Buzz] doesn't understand that whole thing. I love this ignorance. It's not ignorance. He's innocent. That's a better way of saying it. And he's just one of [Woody's] best friends. And you'll see through this thing. That's the journey through this thing is how cool of friends these guys are."
As Bo Peep, Annie Potts has always been the third amigo to Woody and Buzz, even if she went her own way a few movies ago. But she's back for Toy Story 4, and even though we haven't seen her evolution, Potts assured us that she was still the same wonderful Bo – just maybe upgraded. She is "a new and improved, emboldened, courageous, seasoned gal. It's been lovely," says Potts.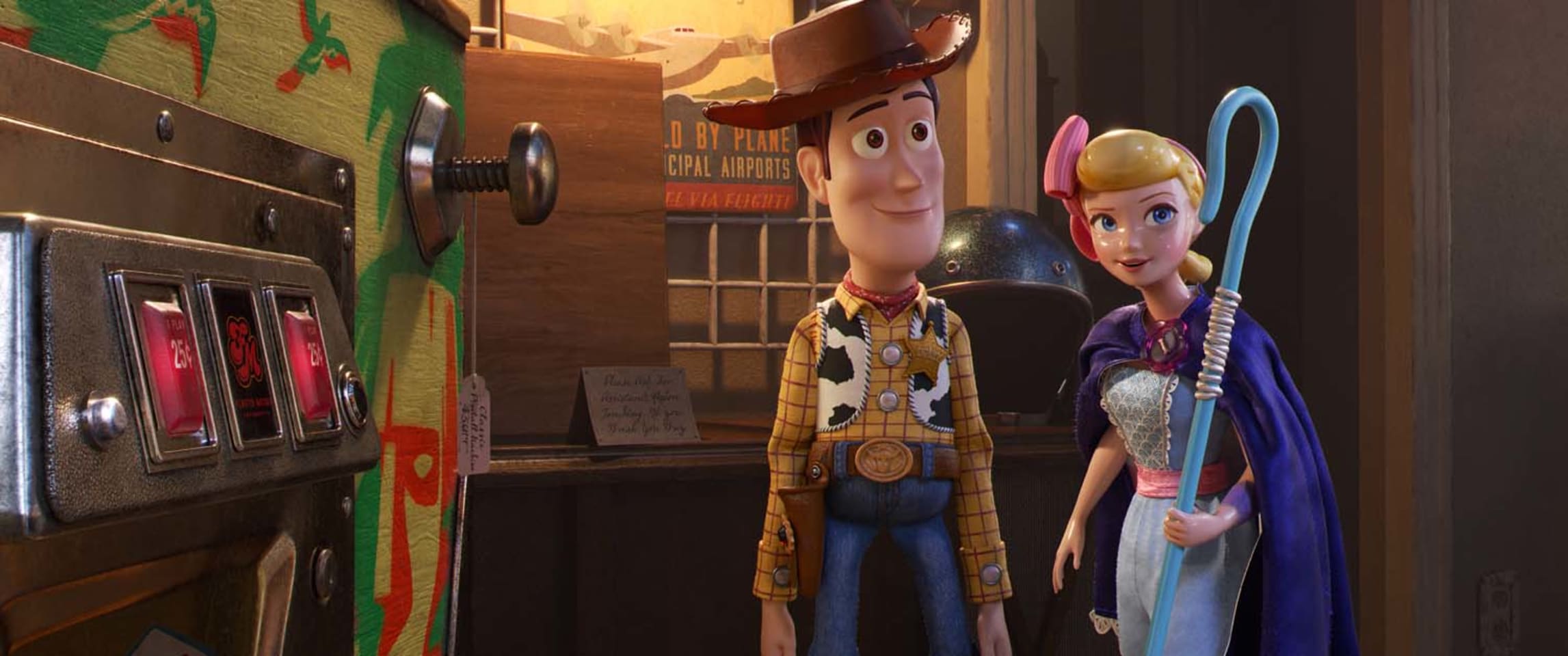 But what about those three newcomers? All three characters have a considerable role and arc in the movie. So how did they feel coming into a beloved franchise in the fourth movie?
For Hale, it was wonderful but also nerve-wracking – perfect for the neurotic Forky, as it turns out:
"It's overwhelming. And which helps because Forky is very overwhelmed. But I remember when they brought me up to Pixar and they kind of described him as he's kind of nervous. I was like check. He asked a lot of questions. Check. And he's kind of gullible to a fault now. It's like bingo. I'm in. So I just love that he sees everything as new. And mainly I love that he's a character that his home place is trash. That's all he knows is to help people eat soup. And then Woody comes along and shares that he has a greater purpose."
It is, he mused, a role that has a lot of resonance in reality, too. "I think just in life, anybody who might see themselves that way and they have worth," he explained. "They have purpose. That's just a beautiful message that Toy Story is giving us."
Christina Hendricks was so nervous that she was convinced she wouldn't really be in the movie. "I honestly thought it was a joke that they asked me!" she laughed. "I kept thinking there were like three other people up for the same thing." But playing Gabby, with her sweetly sinister nature, was a dream for Hendricks:
"She's so lovely. I like that, I think when children see this movie, she comes across as sort of like the villain at first. And then you realize that she's coming from a very loving place. And I think that's important to sort of say maybe you don't like someone at first. But how did they get there and why are they there and understanding their story. So I think she's very special in that way. And then she sort of gets embraced by the group. Then it's about support."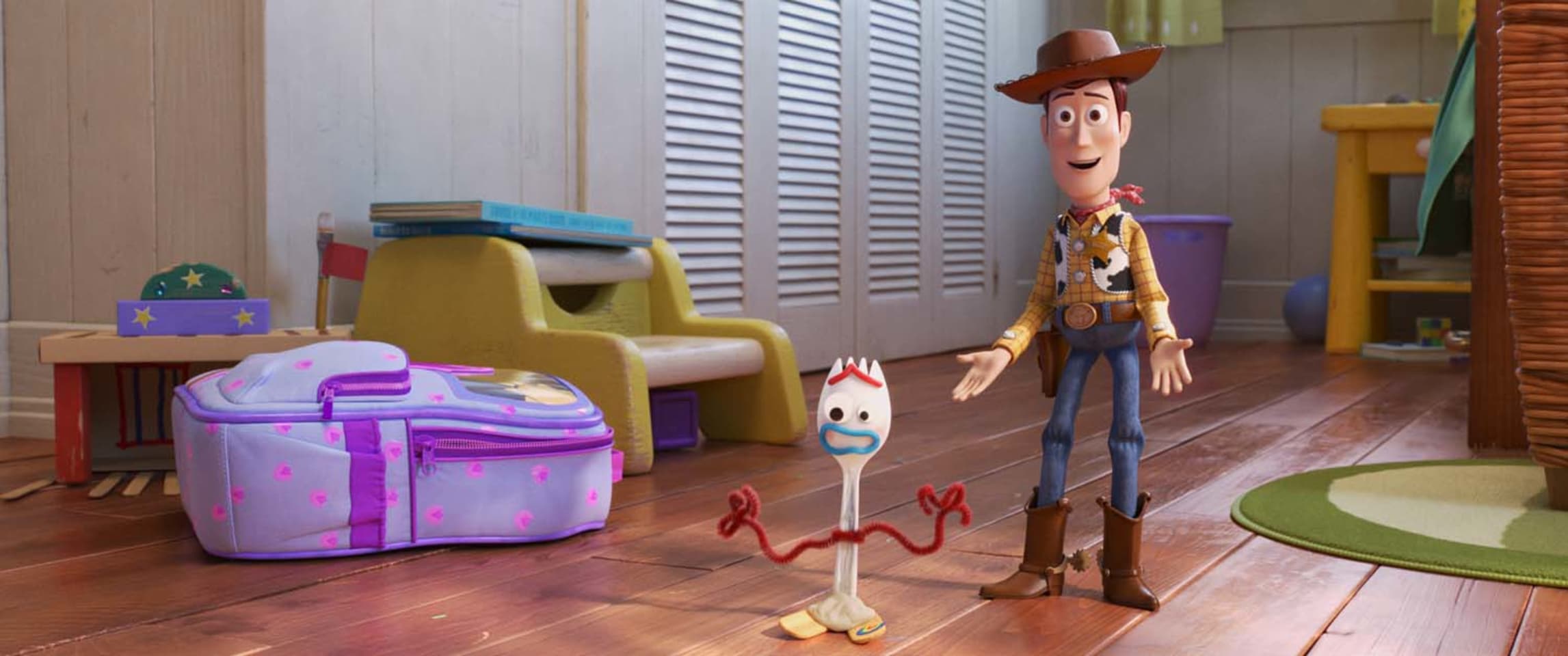 Keanu Reeves, who voices Duke Caboom, agreed with Hendicks that the characters are so real and relatable and that's what makes them enduring:
"I think this is what's really cool about Pixar and Josh [Cooley, the director] and all of the creators of the stories and the characters themselves and the performances is that I think we can identify. There's so many different kinds of people going through different things. And Duke Caboom just happened to be a crybaby. And super with a big heart and brave who loved life and so I think that there's a bit of Duke Caboom in all of us."
Stepping into the Toy Story franchise is a big undertaking, and one that will shape them the rest of their lives – and in the most unexpected ways, said Potts. She recounted a story of a moment in a remote Amazon rainforest that floored her:
"I just wanted to say this. It struck me. So I was in a boat going down a remote area of the Amazon [the summer before last]. There was a little boy, a local boy playing on the banks of the river. And he had on a t-shirt that said Toy Story with Woody on the front. This is on the Amazon. And I thought, man. This thing is so much bigger than any of us could ever have imagined and has gone so far."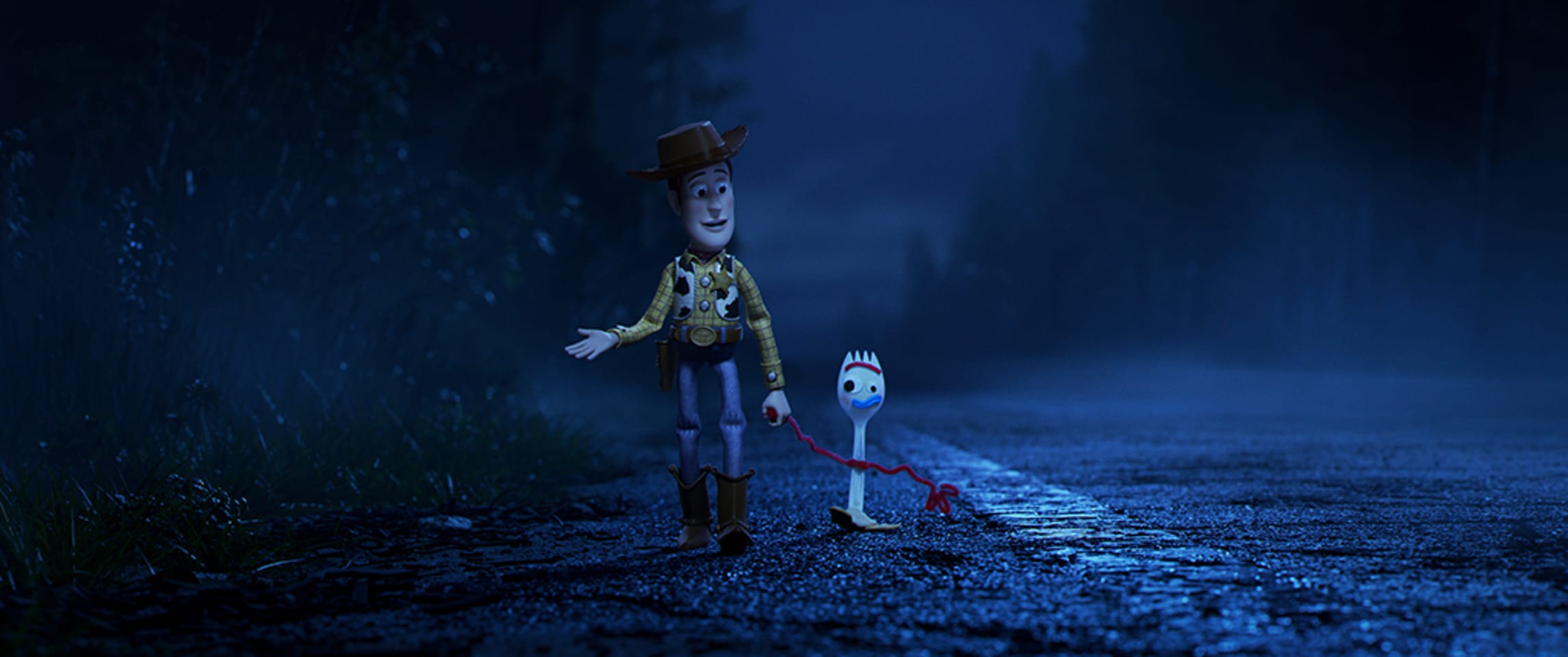 It was, fittingly, Hanks who really drove home how much of a legacy they're building, and how it will always be a lifelong honor to be part of Toy Story. "There is a profound thing that comes from being Forky or Bo or Woody," he explained. He capped it off with a touching story of his own moment he realized that what they had created was so much bigger than all of them:
"In Disneyland, the closing of the show is the Mark Twain steamboat comes by. And all of the Disney characters are dancing on that steamboat. Belle and Sleeping Beauty and Mickey and everyone. Mulan is there. They're all there. Captain Hook, Peter Pan. I was there with my family. My daughter who is in her 30s burst into tears. I said, 'What's wrong?' And she said, 'Look, Dad! Look! Look at the end of the boat.' And it was Woody and Buzz. She said, 'Dad. You'll always be on that boat dancing for the rest of time as long as Disneyland is here.' And that's more than just a cool thing."
Being a part of Toy Story is to be part of an exclusive, loving club that profoundly impacts the world, he finished.
"It's actually some sort of talisman I think that we all carry with us now."
Toy Story 4 is in theaters this weekend. Get tickets now!